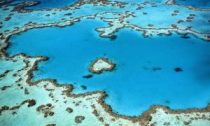 There are many challenges that are top-of-mind when we think about ocean conservation. And science is perhaps the most crucial part of decoding these challenges. It underlies a lot of the innovation we need to save the ocean. However, while science underlies many of these solutions, scientists aren't the only perspectives we need. From storytellers like filmmakers to event planners and educators, we very much need multiple perspectives to spurn effective solutions.
EarthX, "the world's largest environmental conference and film festival," ran a virtual event just last week that embodies this principle. The event, in partnership with National Geographic, acknowledges the importance of scientific viewpoints, inviting marine biologist and former NOAA Chief Scientist Sylvia Earle.
But it also invited creatives including documentarian Fabien Cousteau, whose grandfather pioneered marine conservation. And it additionally features thoughts from EarthX founder Trammell Crow.
The most urgent challenges in ocean conservation
EarthX's event largely focused on four key topic areas, which encompass many of the most urgent challenges in ocean conservation:
High seas protection: Open ocean areas that do not fall within any country's jurisdiction often include high-risk and neglected ecosystems
Protecting coral reefs: "Coral reefs support a quarter of all marine species on the planet, but make up only 0.1% of our ocean." Yet we still destroy them at a rapid rate
Reducing ocean plastic: While ocean plastic is an issue that most people know impacts marine ecosystems, most are surprised to find that "the average person ingesting the equivalent of 1 credit card a week in microplastics," according to EarthX
Making fisheries more sustainable: Overfishing depletes global fish populations, which could lead to fishery collapse by 2048, according to EarthX
While these issues are well-known and many experts work to tackle them, certain human actions are setting us back. For instance, the Great Barrier Reef has suffered a number of bleaching events.
Additionally, while members of the public and private sector alike have tried to reduce ocean pollution, reportedly "more than 8 million tons of plastic are dumped in our oceans every year."
EarthX founder shares the ethos behind his team's 2020 event
Sure, you could read about ocean conservation from digital sources and learn a small handful of ocean conservation statistics. But EarthX founder Trammell Crow's philosophy is that there's no better way to encourage conversation than to bring a variety of perspectives together through an event.
And as a former businessman, he knows that collaborating with aligned organizations can be crucial.
"EarthX and EarthxFilm have worked with many people with the National Geographic Society in years past most notably Sylvia Earle. We were pleased to partner with them on Ocean's week and other events in 2020," Crow tells me in an email.
"This year's conferences included many sources and people from National Geographic Society all working for a positive result in furthering our actions."
A documentarian's role in fostering effective ocean conservation
Aside from bringing people together to discuss ocean conservation challenges, the media also plays a big role in building awareness. While various media formats share information about ocean conservation, documentaries often offer a more personal story.
And that's no exception for Fabien Cousteau, whose grandfather Jacques-Yves Cousteau inspired him early-on.
"The best education comes from those who have built the knowledge and wisdom before us. I had the unique opportunity to learn so much being in the field with pioneers such as my grandparents and those who were part of the crew of Calypso and Alcyone," he tells me in an email.
"The most valuable fundamental lesson I learned growing up: Ocean is life. No ocean, no life. No healthy ocean, no healthy future," he adds.
A simple but important message indeed. But it's one that motivated Cousteau greatly to pursue ocean conservation and documentary filmmaking. Today, he uses them in tandem to make sure everyone knows it should be a priority.