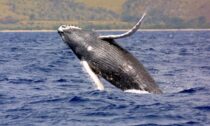 As part of the annual marine review conducted by the Wildlife Trusts' Living Seas team, the number of humpback whale sightings around the UK have seen a significant increase. Until recently, sightings were extremely rare, but more than 75 sightings have been recorded since 2019, showing how populations are recovering after bans on commercial whaling.
The Isles of Scilly Wildlife Trust saw humpbacks feeding around the islands with one individual, named Pi, staying for over two months. More were seen in the Firth of Forth and off Shetland. Matt Slater, marine conservation officer for Cornwall Wildlife Trusts, says: "Only a few years ago, it would have been extremely rare to see a humpback whale around the UK. But it looks like they are chasing big shoals of sardines that are now present around our shores. It is magnificent to see these creatures up close."
The report also noted that white-beaked dolphins were seen off Essex for the first time in over 20 years, while orca individuals that are part of a group usually found off the Hebrides were spotted in Cornwall. It was the most southerly sighting of members of this unique group of killer whales in over 50 years. Abby Crosby, marine conservation officer for Cornwall Wildlife Trust, says: "This was the first confirmed record of orca in our database in over a decade. It shows the importance of monitoring wildlife to help protect it against a tide of human pressure."
Lissa Batey, head of marine conservation for The Wildlife Trusts, says: "It's been a fantastic year for marine megafauna sightings, particularly in the southwest, but it's clear that our oceans are under immense pressure from fishing, development, pollution, climate change and recreation. All these issues are having a huge impact on life at sea."
"COP26 really brought home the need to limit global temperature rises to a maximum of 1.5°. Protecting our marine environment is a critical part of achieving that goal because healthy seabed habitats store carbon. We need policies that stop unsustainable fishing practices and prevent unrestricted development at sea – and we must protect at least 30% of our oceans by 2030. Future generations are counting on it," she adds.
In Cornwall alone, over 170 cetaceans (whales, dolphins, and porpoises) and an astonishing 247 seals were stranded this year, many injured by fishing activities. "Noise at sea caused by wind farms and other development can disorientate wildlife and cause whales and dolphins to head off course – we need to think carefully about all marine development in the future. Also, far too many marine creatures are unnecessarily killed due to unsustainable fishing practices, with lost and discarded fishing gear also causing havoc – especially for seals, dolphins and other marine mammals," explains Daniele Clifford, marine conservation officer for The Wildlife Trusts.
Furthermore, marine creatures from far-flung places made unusual appearances around our coasts, providing further evidence of the impacts of climate change on our seas. For example, in October, Cornwall Wildlife Trust reported a pufferfish was found on Downderry beach – the first time one had washed up in 20 years. Matt Slater, marine conservation officer at Cornwall Wildlife Trust, says: "This was an unbelievable sighting. Oceanic pufferfish live out in the open ocean and rarely come this far north. How and why it ended up in Cornwall is a mystery, though it's possible it was blown off course by summer storms."
For a full video of the marine review, click here. 
Photography courtesy of Unsplash.