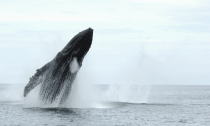 Whale enthusiasts are celebrating the return of the humpback to B.C.'s coastal waters, even though it means people need to learn how to coexist with the gentle giants. The Northeast Pacific population of humpback whales, which spend much of their time in B.C. waters during the summer months, has experienced a remarkable recovery in the past few decades.
The migratory whales, known for their underwater ballads, are easily recognizable by their long pectoral fins and knobby heads.
They had been hunted to near extinction by the mid 1900s but there are now more than 20,000 humpbacks in B.C. waters, according to the Department of Fisheries and Oceans.
"We've never seen so many humpbacks in inshore waters," said Paul Cottrell, DFO marine mammals co-ordinator.
"It's been incredible thes...
Read More