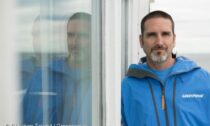 It's crunch time! After a two-year pandemic-driven delay, world leaders will meet at the United Nations Intergovernmental Conference (IGC4) in just weeks to decide if our oceans are worth protecting. If world leaders can agree on a Global Ocean Treaty that protects 30 percent of the world's oceans by 2030, it will be one of the biggest conservation victories in human history.
Nearly 5 million people globally have signed the petition to world leaders – asking for a strong Global Oceans Treaty. Will you add your name to amp up the pressure during this crucial moment? Take action: Demand a strong global oceans treaty before IGC4 begins on March 7th. 
As Greenpeace USA's Ocean Campaign Director, I have sailed around the world to sound the alarm for our dying oceans and confront the corporations and governments that put them at risk from overfishing, deep sea mining, plastic pollution and climate change. This is my 13th expedition, and the beautiful wild of the Antarctic is Greenpeace's final stop before leaders meet on March 7th.
It's one of the world's wildest oceans – bursting with majestic marine life from humpback whales and Emperor penguins to smaller animals like krill – over 9,000 species live in the Antarctic. In fact, three-quarters of all marine life benefit from the Antarctic in some way. But animals in the Antarctic are threatened by climate change and industrial fishing.
These catastrophic threats are why I couldn't be anywhere else but piloting a submarine in the Antarctic Ocean before IGC4. The world and the Biden Administration need to see what is at risk right now in the Antarctic – and what is at stake for the world's oceans if a Global Oceans Treaty isn't adopted.
As Greenpeace, I will be taking scientists to the depths of the Antarctic Ocean to document, explore and map the seafloor. If we are successful, the expedition will provide evidence that could result in several small areas being protected from fishing and build support for creating the two largest new sanctuaries in the world.
With the help of people power and supporters like you, it's also critical to amplify this photojournalistic storytelling to immerse world leaders in the beauty and invaluableness of the ocean. Together, we can convince them to adopt a strong Global Ocean Treaty that protects 30 percent of the world's ocean by 2030.
As a movement, we've built an almost 5-million-strong global movement to protect the oceans, and now it's time to make it count. Pressuring world leaders to adopt a strong treaty is the most important thing we can do to win the campaign right now. Will you take a minute to add your voice?