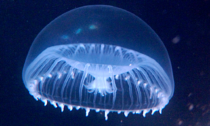 The number of jellyfish spotted in UK waters and on beaches increased by 32% in the past year, according to a survey by the Marine Conservation Society. The most commonly spotted were the huge barrel jellyfish – but rarer warm-water crystal jellyfish were also seen. Jellyfish populations vary naturally over time – but climate change warming the UK seas is creating favourable conditions.
A marine heatwave in June increased UK water temperatures by about 3-4C.
The world has warmed 1.1C compared to the pre-industrial period before humans began burning fossil fuels and a series of broken records this year is alarming scientists.
In August, oceans hit their highest global average temperature on record.
The Marine Conservation Society's annual wildlife-sightings report is based on...
Read More