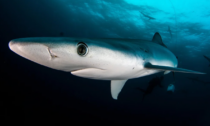 Sharks have received what conservationists say are vital new trade protections. Several shark species were added to a list of species whose trade is restricted to prevent them being "traded to extinction". The decision was made on Friday at a global summit in Panama. The meeting takes place against the backdrop of an ongoing global extinction crisis.
Other animals given additional protections in the international wildlife trade treaty, known as CITES, include dozens of freshwater turtles and frogs.
"Over a million species are at risk of extinction if we do not change the way we treat wildlife," said Matthew Collis, deputy vice president for conservation at the International Fund for Animal Welfare.
"Governments at CITES have shown they are beginning to grasp the scale of the challenge required to confront the crisis facing the natural world."
Nearly 100 species of sharks and shark-like rays received protections to help ensure any trade of their meat and fins – which has pushed some sharks to the brink of extinction – is legal and sustainable.
This brings most shark species in international trade under control of the treaty.
Most of the new species listed are from the requiem shark family, which includes the tiger, bull and blue sharks.
Almost half of all international trade in shark fins is made up of requiems, according to Glenn Sant, senior advisor on fisheries and traceability at TRAFFIC.
While some of these sharks are not considered threatened, all were added to account for "lookalikes" – species that are difficult to distinguish from those that are critically endangered.
The inclusion of lookalike species means traders will be unable to pass off a protected shark as an unprotected shark in a trade.
The guitarfish family of shark-like rays, whose fins are traded like shark fins, also had 37 species receive new protections.
The rays are a coastal species, particularly vulnerable to fishing methods like trawling.
"It's a really important first step," says Sant. "We all get excited about species being listed on CITES. But the hard work begins when countries actually have to implement that."
"We can't afford to have any ivory trade," says Lieberman.