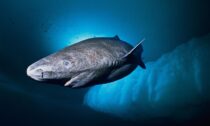 A rare Greenland shark found washed up on a Cornish beach died of meningitis, a post mortem has found. Scientists who examined the body said the discovery was "likely a world's first". The female found just outside Newlyn Harbour in Cornwall in March is thought to be 100 years old by marine biologists. But it is still considered a "juvenile" because Greenland sharks can live to more than 400 years old.
Scientists said there was not enough evidence to link the disease to man-made stressors, such as pollution.
The autopsy by the Cornwall Marine Pathology Team, is thought to be the first of its kind undertaken in the UK.
Veterinary pathologist James Barnett, of the Cornwall Marine Pathology Team, said the brain was "discoloured and congested", while the fluid around the brain was cl...
Read More