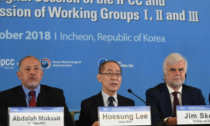 Earth is hotter than it has been in 125,000 years, but deadly heatwaves, storms and floods amplified by global warming could be but a foretaste as planet-heating fossil fuels put a "liveable" future at risk. So concludes the UN Intergovernmental Panel on Climate Change (IPCC), which started a week-long meeting Monday to distill six landmark reports totalling 10,000 pages prepared by more than 1,000 scientists over the last six years.
Here are some of the main findings from those reports:
– 1.5C or 2C? –
The 2015 Paris Agreement called for capping global warming well below two degrees Celsius compared to late-19th century levels.
But a landmark IPCC report in 2018 left no doubt: only the treaty's more ambitious aspirational limit of 1.5C could ensure a climate-safe world.
But the report cautioned that achieving this goal will require "unprecedented changes in all aspects of society".
Greenhouse gas emissions must drop 43 percent by 2030 — and 84 percent by mid-century — to stay within the threshold.
And yet, emissions have continued to rise. The world is very likely to overshoot the 1.5C limit, even if temporarily.
Every fraction of a degree counts.
At 1.5C of warming, 14 percent of terrestrial species will face an extinction risk.
If temperatures rise to 2C, 99 percent of warm-water coral reefs — home to a quarter of marine life — will perish, and staple food crops will decline.
The IPCC reports emphasise as never before the danger of "tipping points", temperature thresholds in the climate system that could, once crossed, result in catastrophic and irreversible change.
The Amazon basin, for example, is already morphing from tropical forest to savannah.
Warming between 1.5C and 2C could push Arctic sea ice, methane-laden permafrost, and ice sheets with enough frozen water to lift oceans by a dozen metres past points of no return.