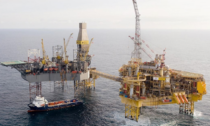 Oil spilled routinely into UK waters over five years has added up to thousands of tonnes of pollution endangering marine life, according to data shown exclusively to BBC News. Campaigners say the data shows some spills hit areas meant to protect wildlife including porpoises and orcas. While some oil spillage is allowed in production, they say 40% of monitored releases breached permits.
An industry representative said it takes all releases very seriously.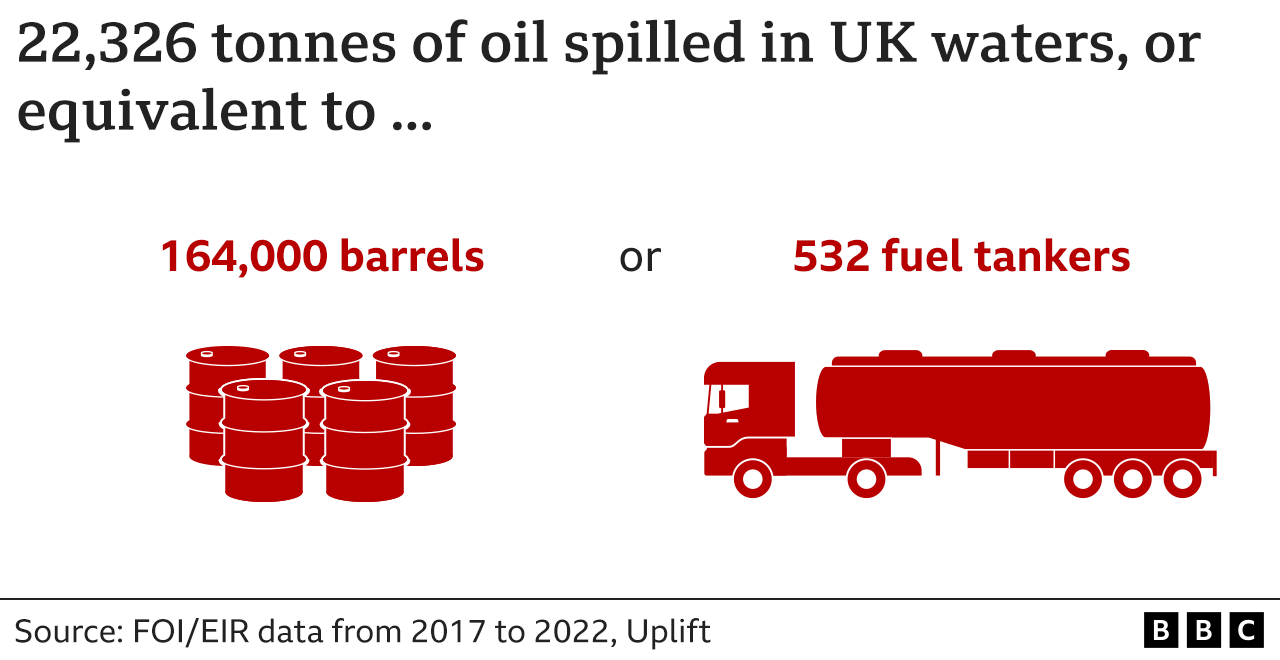 Energy campaigning group Uplift obtained the data through Freedom of Information requests to the offshore oil and gas regulator, the Offshore Petroleum Regulator for Environment and Decommissioning.
Uplift's analysis suggested that between 2017 and 2022, 22,000 metric tonnes of oil were discharged in UK waters, or 164,000 barrels. In comparison, the Poole Harbour spill in March leaked 200 barrels of reservoir fluid which contains some oil.
Uplift, which campaigns to transition from oil and gas to green energy, said its findings showed the oil and gas industry was spilling far more oil than the government says is safe.
"This is the first time we are revealing the extent of this cumulative pollution. This is what happens when you've got spills constantly leaking. You've got tar balls and droplets falling to the bottom of the ocean, threatening wildlife," Uplift Director Tessa Khan said.
Companies are allowed to release some oil including in so-called produced water – found within rocks alongside oil and gas – as a by-product of routine production. They are given permits that allow discharges.
Regulations allow a maximum limit of 30 parts of oil per million parts of water meaning that it contains a maximum of 0.00003% hydrocarbons, Mark Wilson from Offshore Energies UK, representing offshore oil producers in UK waters, told BBC News.
"Our industry is focused on driving continuous improvement," he added.
"Our latest data, covering 2022, published in our environment report shows that oil mass in produced water fell by 10%," Offshore Energies UK added.
Uplift's analysis suggested 58% of releases were allowed under those government permits. The remaining 42% breached the permits.
"For context, the UK annually produces about 40-45 million tonnes of oil and up to 40 billion cubic metres of gas," Offshore Energies UK said.
A government spokesperson said offshore pollution incidents were monitored closely, adding: "We are clear that companies should not be breaching their permit conditions. If they do, appropriate action will be taken, including the use of fines".
Uplift also worked with another NGO, SkyTruth, which analysed satellite pictures of UK waters. Images from 2020 to 2022 also show large numbers of oil spills.
Some of the slicks detected were 10km long and one cumulative slick extended to an area of 91 sq km.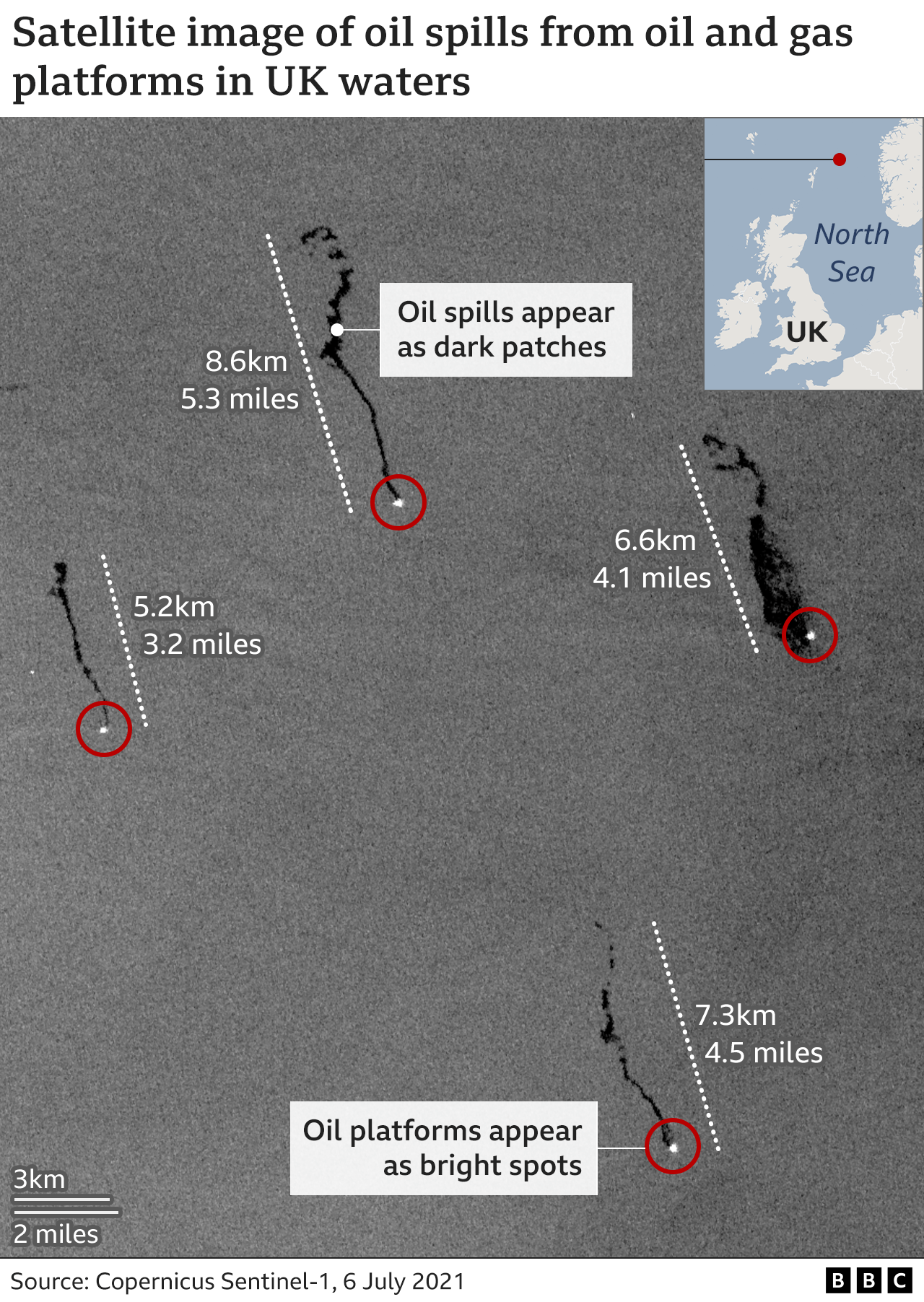 The amount of oil released is not comparable to large disasters like Deepwater Horizon when more than 125 million gallons of oil spilled. But Hugo Tagholm, director of ocean conservation campaign group Oceana, said: "oil spills every other day from these regular releases is a huge problem for marine life".
It threatens the feeding and breeding patterns of many of the species in Marine Protected Areas, including harbour porpoises, deep sea sponges and slow growing cold water corals, he said.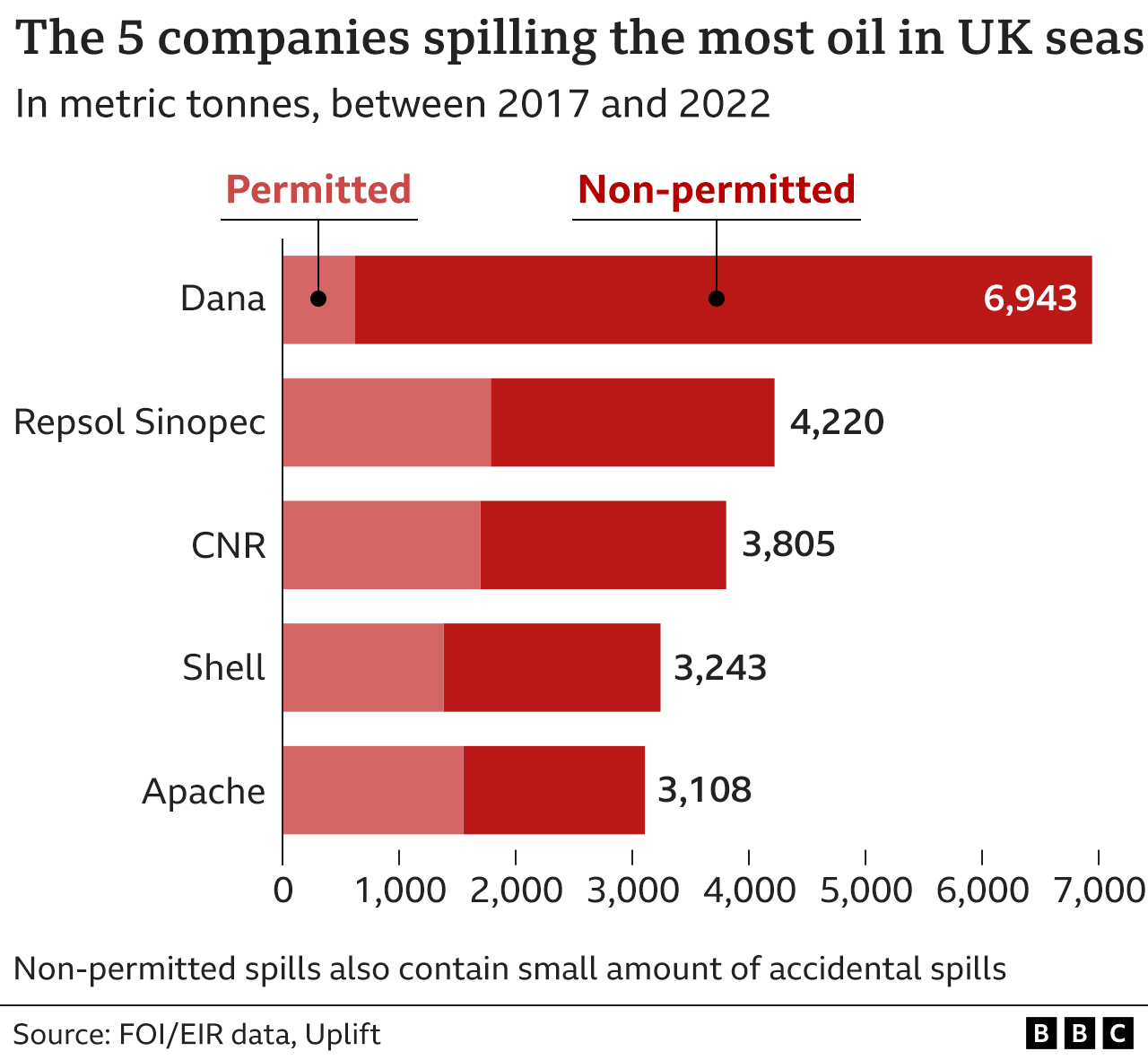 The five companies that Uplift said had spilled the most oil between 2017 and 2022 were Dana, Repsol Sinopec, CNR, Shell, and Apache.
Dana and Shell referred BBC News to a statement from Offshore Energies UK as their response. Repsol Sinopec, CNR and Apache did not respond to a request for comment.
Oceana and Uplift say that whether the leaks are permitted or not, the pollution damages critical ecosystems that are essential for ocean health and tackling climate change.
A review of scientific evidence about the impacts of oil and gas pollution on UK seas, commissioned by Oceana and published on Thursday, claims the waters are now "too noisy, polluted, built-up and disturbed for our rich marine life to thrive.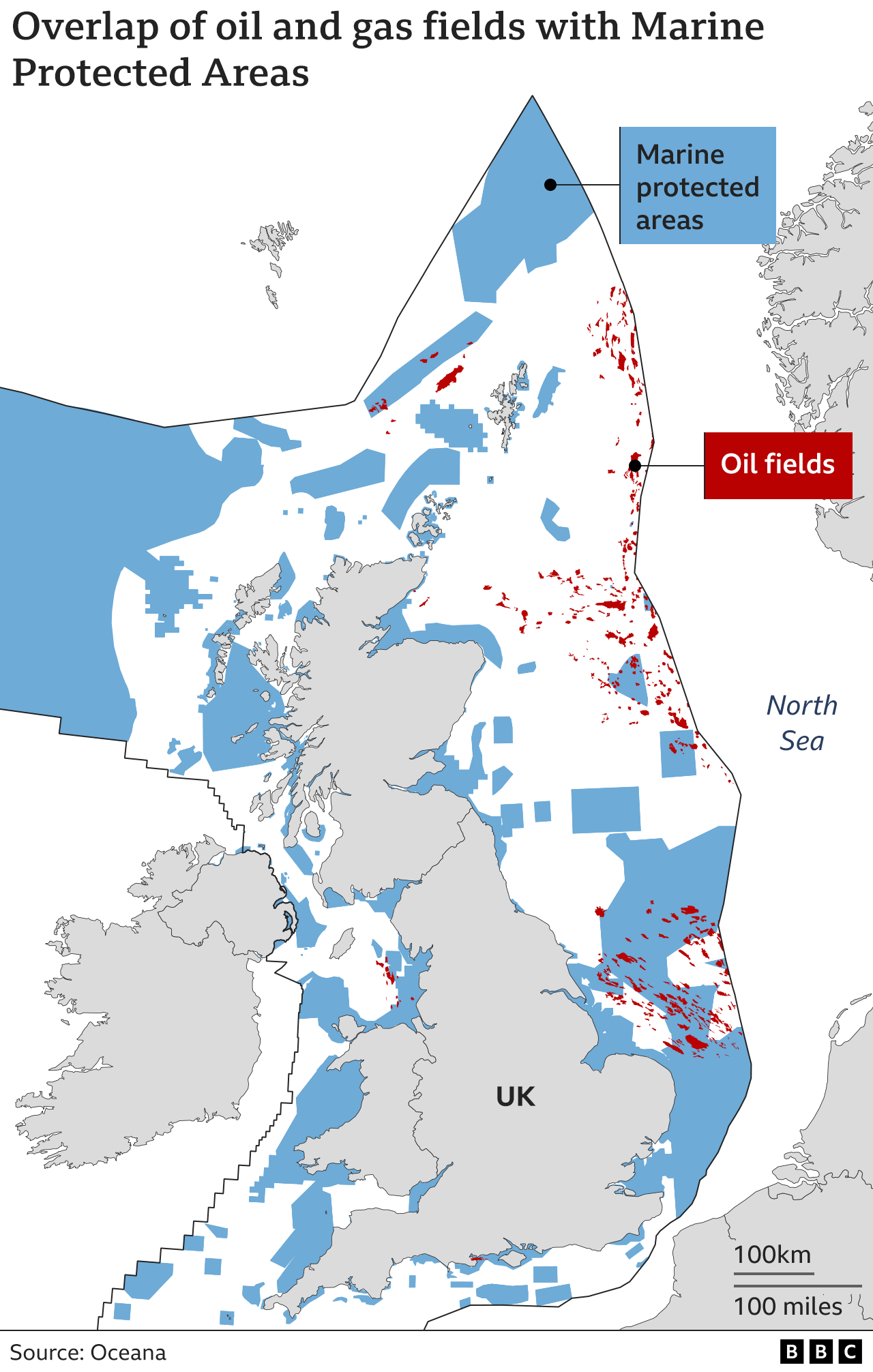 The UK has some of the richest and most diverse seas in the world, home to species including the harbour porpoise.
"Oil and gas activities are a major contributor to the cumulative impacts on harbour porpoise and can potentially lead them to starvation as their food sources are affected and they use energy to avoid disturbances," explained marine ecologist and report author Dr Fiona Gell.
The UK has made major international commitments to protect UK and global oceans, including in the UN High Seas Treaty and at an international conference on biodiversity in Montreal in 2022.
But these findings undermine those pledges and threaten UK international leadership, Oceana's Mr Tagholm said.
Oceana also said the findings showed that the government should not allow new oil and gas fields to be developed.
More than 100 new licences are expected to be granted by regulators this year, including a controversial oil field known as Rosebank.