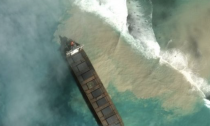 The island nation of Mauritius has declared a "state of environmental emergency" after a vessel offshore began leaking oil into the ocean. MV Wakashio ran aground on a coral reef off the Indian Ocean island on 25 July and its crew was evacuated. But the large bulk carrier has since begun leaking tons of fuel into the surrounding waters.
France has pledged support and the ship's owner said it was working to combat the spill.
Mauritius Prime Minister Pravind Jugnauth declared the state of emergency late on Friday.
He said the nation did not have "the skills and expertise to refloat stranded ships" as he appealed to France for help.
The French island of Reunion lies near Mauritius in the Indian Ocean...
Read More