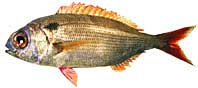 Diplodus sargus capensis
Seabream or porgies are members of the Sparidae family of carnivorous bony fishes. Porgies are carnivores of hard-shelled benthic (bottom dwelling) invertebrates. Many species have been found to be hermaphroditic; some have male and female gonads simultaneously. Others change gender as they get larger.
The structure of the fins of Porgies is essentially the same as in the family Serranidae of seabasses with which they can be confused. There are important anatomical differences, however, most obvious of which are that the edge of the gill cover does not end with a sharp spine in the porgies but is rounded or at most bluntly angular; and that the maxillary bone (the bone forming the margin of the upper jaw) is sheathed and hidden when the mouth is closed.
Lo...
Read More