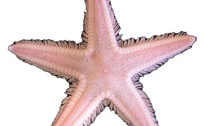 Asteroidea, but not A. vulgaris or A. forbsii
Sea stars (group name Stelleroidea) are sometimes called starfish, though lacking both vertebrae and fins, they are not real fish. There are two sub-types of sea stars: Asteroideas are the true sea stars and sun stars, whereas Ophiuroideas are brittle stars and basket stars.
Ophiuroid means 'snake-like', referring to the form and motion of the arms. The arms of brittle stars are easily broken off, but will regenerate in a few days to weeks. Sea stars can also regenerate arms that are broken off, but for most species, the central region of the body must remain intact Class Asteroidea, the true sea stars, contains about 1700 living species of these echinoderms...
Read More