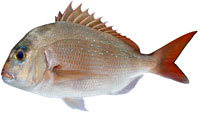 Pagrus auratus
Strictly, or scientifically speaking, the pink snapper (Pagus auratus) is not actually a "snapper" at all! The snappers are a large and diverse group of robust-bodied, carnivorous fishes and belong to the family Lutjanidae. Like many other Australian species, the pink snapper inherited its name from the northern species it most closely resembles, but is in fact a member of the family Sparidae, which are sea bream or porgies.
The pink snapper is a very attractive fish, silvery in colour, with a pink to brown upper body. The sides are sprinkled with bright blue spots that are more prominent in juveniles. The top, tail and side fins are also pink, while the bottom fins range in colour from pale-pink to creamy-white.
Snapper have been known to live 30 years – a ri...
Read More