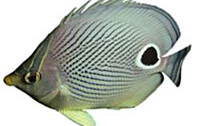 Found in most oceans of the world, butterfly fish are small, thin, disk-shaped fish with pointed noses. There are many varieties, the four-eyed butterfly probably being the most common from New England to the Caribbean. Others include the spotfin, the banded, and the reef butterfly.
Many of these fish have a dark band running vertically through each eye. This helps the fish camouflage themselves on the coral reefs where they live. Most butterfly fish have pointed snouts, very useful for plucking out the small coral animals and getting into small crevices for tiny invertebrates which they feed on.
Yellow, white, and black are the most common colours for butterfly fish. The four-eyed is pale yellow or whitish, with a dark eye band and a large dark spot on the tail...
Read More