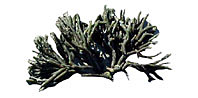 Alcyonium digitatum
Dead mans fingers (Alcyonium digitatum) are colony building soft corals that are classified asOctocorallia, a group which also includes sea pens and sea fans. This group of corals is characterized by the eight tentacles clustered around the mouth of each polyp in the colony.
The tentacles sit in a circle around the edge and have small branches. Corals in the family Alcyonaria have a horny or leather-like skeleton supported by calcareous pins.
Colonies consist of small coral polyps and are white or orange in colour, but may appear reddish or brownish during periods of inactivity when the individual polyps are withdrawn into the colony...
Read More