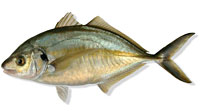 Blue Moki, Butterfish, Blue Cod, Trumpeter
In July 2003, The Earth Policy Institute and others reported that a recent review of marine fisheries, carried out by Ransom Myers and Boris Worm at Canada's Dalhousie University, had concluded that a startling 90 percent of the world's large predatory fish stocks, including tuna, swordfish, cod, halibut and flounder, have disappeared in the past 50 years. The study was carried out over a tenyear period, and attributed the decline to a growing demand for seafood, coupled with an expanding global fleet of technologically efficient boats. In addition to numerical decline, the review also concluded that the surviving members of the reef fish population are only one-fifth to one-half the size of earlier individuals.
With the capacity o...
Read More