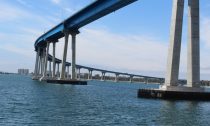 Ocean temperatures off the Southern California coast have been profoundly warm in August, with a number of all-time high temperatures recorded in San Diego's almost bath-like waters. These extreme marine temperatures — created by weather patterns and boosted by climate change — have a sphere of influence beyond the oceans, as this heat has contributed to unusual heat and mugginess on the heavily-populated coast.
This is not the norm for seaside San Diego, which is famous for its sunny, though moderate, climate.
"We're in a record-setting streak right now," Mark Moede, a National Weather Service meteorologist in San Diego, said in an interview. "It's unprecedented — typically it's pretty temperate."
Since July 1, San Diego hasn't had a single day where the high temperature fell bel...
Read More