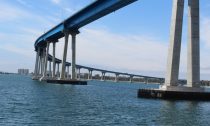 Ocean temperatures off the Southern California coast have been profoundly warm in August, with a number of all-time high temperatures recorded in San Diego's almost bath-like waters. These extreme marine temperatures — created by weather patterns and boosted by climate change — have a sphere of influence beyond the oceans, as this heat has contributed to unusual heat and mugginess on the heavily-populated coast.
This is not the norm for seaside San Diego, which is famous for its sunny, though moderate, climate.
"We're in a record-setting streak right now," Mark Moede, a National Weather Service meteorologist in San Diego, said in an interview. "It's unprecedented — typically it's pretty temperate."
Since July 1, San Diego hasn't had a single day where the high temperature fell below normal.
Warmer waters, which recently hit over 81 degrees Fahrenheit off Southern California, heat masses of air near the ocean, which then boost and sustain temperatures on the coast. The effect in these communities — which historically have had no use for air conditioners — has been palpable.
"It's been really, really warm and uncomfortable to try and sleep in," said Moede. "The nights are getting to be intolerable."
The average August high temperature in San Diego is 76 degrees, yet on August 9 though 11, the lowest night time temperature didn't fall below 77 degrees, noted Moede.
"That gives you an idea of how amazingly warm it has been at night," he said.
But it's not just the temperature that's been unusually high. The dew point, or amount of moisture in the air, has also been "pretty darn high," said Moede. This is a simple matter of physics. Warmer air can hold more water vapor.
A dew point above 70 means it's pretty muggy out, and even coastal San Diego has experienced dew points in the mid-70s. For reference, the dew point in notoriously muggy Miami on Tuesday was 76.
The warm ocean temperatures, while influential, haven't been the only contributor to San Diego's hot days. A hot mass of air has been sitting over the Southwestern U.S., resulting in extended periods of heat.
Heat waves certainly happen from time to time, but climate scientists repeatedly underscore that human-caused climate change, which has resulted in an accelerated warming of the planet, enhances heat waves to new extremes and spurs on new records.
This has been overwhelming apparent in the Western U.S., which has seen a number of all-time records fall amid a series of heat waves.