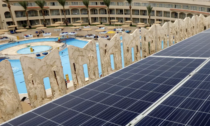 COP27 is the next meeting of the group of 198 countries that have signed the UN Framework Convention on Climate Change. It will be held in the Egyptian city of Sharm El-Sheikh on 6-18 November. The UN is urging the world's industrialized nations to 'lead by example' by taking 'bold and immediate actions'. Five key issues to watch are nature, food, water, industry decarbonization and climate adaptation.
"A third of Pakistan flooded. Europe's hottest summer in 500 years. The Philippines hammered. The whole of Cuba in blackout. And … in the United States, Hurricane Ian has delivered a brutal reminder that no country and no economy is immune from the climate crisis."
These are the words of UN Secretary-General António Guterres...
Read More