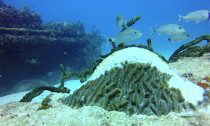 Stony corals provide habitat for an eye-popping one-fourth of the ocean's species. They serve as the centerpiece of a rich and diverse ecosystem, which is why their recent behavior has scientists concerned. New research shows that stony corals around the world are hunkering down into survival mode as they prepare for a mass extinction event, according to a new study published in Scientific Reports.
The international research team was composed of scientists from New York, California, Israel, England and Germany. They noticed a suite of behaviors that correspond to a survival response commensurate with how they behaved during the last mass extinction 66 million years ago, according to the new study.
"When we finally put all this together and saw the result, for me it was that moment when th...
Read More