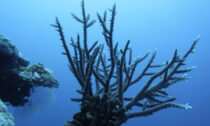 Scientists from the ARC Centre of Excellence for Coral Reef Studies at James Cook University (Coral CoE at JCU) have assessed how many corals there are in the Pacific Ocean. In a world-first coral count, the team have estimated that there are roughly half a trillion corals in the Pacific Ocean alone – approximately the same number of trees in the Amazon, or birds in the world.
Until now, scientists didn't know how many individual coral colonies there are in the world, and these findings have prompted them to reevaluate the risks of extinction.
"We need to know the abundance of a species to assess its risk of extinction," said Dr Andreas Dietzel of Coral CoE at JCU. "However, there is very little data on most of Earth's wild animal and plant species – not just corals...
Read More