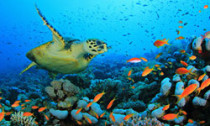 Ruth Gates, Director of the Hawai'i Institute of Biology, is working on breeding "super corals" that can withstand the climate change that oceans are already experiencing. Another group, in Australia, is creating "mutt" corals from different robust species to achieve the same result. What's unique about these approaches to coral preservation is that it's like the land-based genetic tinkering that's been done for millennia with livestock and crops.
"We've never taken a proactive and interventional approach" to saving corals, Gates told Discovery News at the University of Hawai'i's Coconut Island research facility on O'ahu.
Land-based agricultural breeding methods "have never been used in the oceans," she said.
But the method Gates uses is a bit different...
Read More