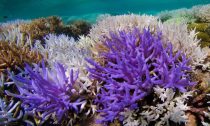 Tropical corals are famous for their captivating colors thanks to microscopic algae inhabitants. Glowing, on the other hand, is not standard fare for tropical reefs. A 2017 documentary Chasing Coral stumbled upon glowing coral reefs by accident.
The documentary follows a team of researchers and underwater photographers intent on getting footage of coral bleaching – when corals turn bright white due to stress. An underwater heatwave was expected at New Caledonia and Australia's Lizard Island, with coral bleaching likely to follow.
The Chasing Coral team installed high-tech cameras on the ocean floor in the hopes of capturing the event. When the cameras failed, the team opted to manually photograph the reefs daily.
Instead of capturing the corals bleaching, however, the team...
Read More