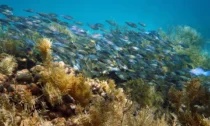 At a critical time for economies and the ocean, The Nature Conservancy, the Caribbean Hotel & Tourism Association and the United Nations Environment Programme joined forces to create, for the first time in the Caribbean, a guide to coral reef restoration designed specifically for the tourism sector.
Healthy coral reefs are essential for the Caribbean tourism industry, which drives local economies and supports hundreds of thousands of livelihoods throughout the region. A Guide to Coral Reef Restoration for the Tourism Sector presents coral restoration best practices backed by scientific research, practitioner experience and stakeholder input. It addresses barriers that, up until now, have hindered the Caribbean tourism sector from substantively engaging in efforts to conserve the very marine environments that draw millions of visitors to the region each year. It also reveals key opportunities for the industry during a critical time – when developing sustainable tourism practices not only helps to reverse years of degradation of Caribbean reefs, but also helps tourism-dependent businesses to survive and prosper after the economic fallout of COVID-19.
Coral reefs support economic stability and human well-being across the globe, but the link between these ecosystems and communities is especially significant, and facing grave risk, in the Caribbean today. Half of all livelihoods in the region depend on marine resources. To create the tourism-centered coral restoration guide, it was fundamental to collect input from people whose businesses or income depend on healthy coral reefs. Interviews, surveys and focus groups were conducted with stakeholders across more than 20 Caribbean countries and territories, incorporating multiple tourism sub-sectors to capture a wide array of perspectives – including transportation and accommodations, food and beverage, ocean and beach recreation, and others.
"Coral reefs and the important ecosystem services they provide are critical for economies and communities throughout the wider Caribbean. They generate more than US$8 billion per year for the tourism industry, but they are under serious threat. It is estimated that over half of the live coral in the region has been lost in the last 50 years," explains Ileana Lopez, Regional Coordinator – Biodiversity and Ecosystems, UNEP's office for Latin America and the Caribbean. "The restoration of degraded coral reef ecosystems is only possible when political and financial support, scientific innovation and active participation of local stakeholders is combined."
In recent years, TNC and its partners have pioneered research to reveal the important connection between tourism and our ocean resources – and to elevate the ways in which effective conservation can ensure this relationship is productive and sustainable into the future. A groundbreaking study led by TNC revealed that reef-associated tourism in the Caribbean generates US$8 billion per year – nearly 25% of all tourism expenditure – from over 11 million visitors. TNC's Mapping Ocean Wealth project, which quantified the tourism value of the world's reefs to mobilize investments in conservation, was recognized as a "world-changing tourism initiative" by winning the World Travel and Tourism Council's Tourism for Tomorrow Innovation Award. Building on this momentum, TNC and the CHTA forged a partnership to work with tourism leaders throughout the Caribbean in their efforts to ensure a healthy and thriving ocean.