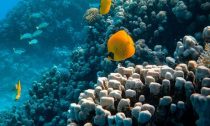 The United Nations Environment Programme (UNEP) has warned that the Caribbean, among other places, could lose its coral reefs by the end of the century unless there are drastic reductions in greenhouse gas emissions. 
"In the face of inaction, coral reefs will soon disappear," said Leticia Carvalho, head of UNEP's Marine and Freshwater Branch.
"Humanity must act with evidence-based urgency, ambition, and innovation to change the trajectory for this ecosystem, which is the canary in the coal mine for climate's impact on oceans before it's too late," she added.
UNEP said coral reefs are "incredibly important and sustain a wide variety of marine life."
They also protect coastlines from erosions from waves and storms, sink carbon and nitrogen, and help recycle...
Read More