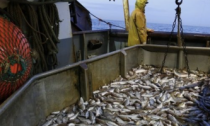 According to the UN Food and Agriculture Organization, between 20 and 30 percent of fishing in Caribbean waters is illegal. Biodiversity in the Caribbean Sea is at serious risk, scientists are warning, with illegal fishing reducing fish stocks and placing the marine environment under increasing strain.
"I cannot say what it's due to or if there are external factors, but certainly in my more than 30 years in the profession I have seen a reduction in fish," says Efe Vernal Nicholls, president of the Caribbean Network of Fishermen's Associations.
According to the UN Food and Agriculture Organization (FAO), between 20 and 30 percent of fishing in Caribbean waters is illegal, unreported and unregulated, and worth as much as US$750 million every year.
Fishing fleets arriving from Asia and Europe are now causing a crisis of overexploitation: "In the absence of effective cooperation among countries to manage shared resources, the region has reached the point of overfishing in most species," warns FAO expert Carlos Fuentevilla.
The lack of regulations protecting species for future food security puts additional stress on oceanic ecosystems, Fuentevilla said.
On the coast of Barbados, fishermen are accutely aware of the decline in fish stocks: during the 1980s, production rates averaged 2.5 million tons. Thirty years later, annual reports are recording reductions of 50 percent.
To protect the world's oceans from over-fishing, pollution and degradation, countries should reach a deal similar to the Paris climate accord that sets stringent targets, according to World Wildlife Fund International President Pavan Sukhdev.
The Western Central Atlantic Fishery Commission, together with the FAO, is strategizing temporary, non-binding solutions which could be put into motion if agreed upon by members of the Caribbean Community (Caricom).
"Our decisions can be binding if countries want them to be; it depends on having the responsibility to implement them," said Milton Houghton, executive director of the Regional Fisheries Mechanism for The Sea (CRFM).
The decline in catches is influenced by many factors, Houghton says: from climate change to overfishing and boat activity in the United States, Venezuela and Mexico.
Florence Phillips, from the Caribbean Natural Resources Institute (Canari), says fisheries should follow an "ecosystem approach" because resources are transboundary, and habitats – including coral reefs, mangroves, seabeds and coasts – can easily become degraded.