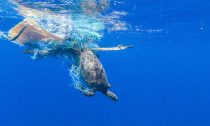 The Pacific Ocean is the deepest, largest ocean on Earth, covering about a third of the globe's surface. An ocean that vast may seem invincible. Yet across its reach – from Antarctica in the south to the Arctic in the north, and from Asia to Australia to the Americas – the Pacific Ocean's delicate ecology is under threat.
In most cases, human activity is to blame. We have systematically pillaged the Pacific of fish. We have used it as a rubbish tip – garbage has been found even in the deepest point on Earth, in the Mariana Trench 11,000 meters below sea level.
And as we pump carbon dioxide into the atmosphere, the Pacific, like other oceans, is becoming more acidic...
Read More