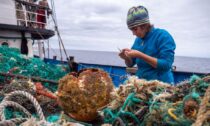 Scientists have discovered marine animals living on plastic debris in an area of the open ocean dubbed "the Great Pacific Garbage Patch". Many of the creatures are coastal species, living miles from their usual habitats, on a patch halfway between the coast of California and Hawaii.
Plants and animals, including anemones, tiny marine bugs, molluscs and crabs, were found on 90% of the debris.
Scientists are concerned that plastic may help transport invasive species.
The study examined plastic items more than 5cm (2in) in diameter gathered from a gyre – an area where circulating currents cause floating debris to accumulate – in the Pacific.
Lead researcher Dr Linsey Haram, who carried out the work at the Smithsonian Environmental Research Centre, said: "Plastics are more perman...
Read More