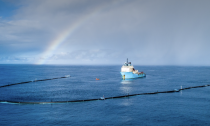 After returning to shore last January due to a fault, the floating barrier has set sail towards the Pacific Trash Vortex once again with the aim of removing the largest plastic island floating in the ocean. The Ocean Cleanup mission is giving it another go, not letting the first obstacle bring it to a permanent halt: the machine, whose full name is Ocean Array Cleanup, is a barrier designed to carry out the greatest ocean cleanup operation ever. 
Boyan Slat, the mastermind behind the project, announced via Twitter that it's currently at sea headed towards the Pacific Trash Vortex, the largest plastic island on the planet.
Give it another go, Wilson
In late 2018, the 600-metre long machine called Wilson was damaged by continuous exposure to waves and wind, causing a 2...
Read More