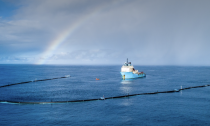 After returning to shore last January due to a fault, the floating barrier has set sail towards the Pacific Trash Vortex once again with the aim of removing the largest plastic island floating in the ocean. The Ocean Cleanup mission is giving it another go, not letting the first obstacle bring it to a permanent halt: the machine, whose full name is Ocean Array Cleanup, is a barrier designed to carry out the greatest ocean cleanup operation ever. 
Boyan Slat, the mastermind behind the project, announced via Twitter that it's currently at sea headed towards the Pacific Trash Vortex, the largest plastic island on the planet.
Give it another go, Wilson
In late 2018, the 600-metre long machine called Wilson was damaged by continuous exposure to waves and wind, causing a 20-metre long section to detach from it and forcing the entire device to return to port.
After approximately four months of repair operations, Wilson is now headed back towards the Pacific Trash Vortex between the US states of California and Hawaii. "Hopefully, nature doesn't have too many surprises in store for us this time – Slat tweeted –. Either way, we're set to learn a lot from this campaign."
Wilson 2.0
In order to avoid the same problem, Ocean Cleanup engineers haven't only fixed the floating barrier but also tried to improve it it. Two upgrades have been installed on the new version of the machine. It now has a set of inflatable buoys that should reduce its drift and help it move slower than floating plastic. The team has also attempted to make the device more durable by creating simpler connections between the various components and removing unnecessary stabiliser frames. Finally, it was constructed following a modular approach, in order to make repairs and modifications easier without having to bring the whole barrier to shore.