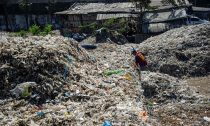 China's largest dump is already full – 25 years ahead of schedule. The Jiangcungou landfill in Shanxi Province – is the size of around 100 football fields – and borders the East China Sea, was designed to take 2,500 tonnes of rubbish per day. But instead it received 10,000 tonnes of waste per day – the most of any landfill site in China. China is one of the world's biggest polluters, and has been struggling for years with the rubbish its 1.4 billion citizens generate.
How big is the landfill site?
The Jiangcungou landfill in Xi'an city was built in 1994 and was designed to last until 2044. The landfill serves over 8 million citizens. It spans an area of almost 700,000 square metres, with a depth of 150 metres and a storage capacity of more than 34 million cubic metres.
Until recently, ...
Read More