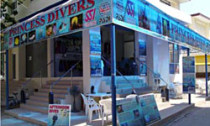 Princess Divers was established on Phi Phi Island in 2001, Princess Divers was set up to offer the guests of Phi Phi Princess Resort and its sister resort Phi Phi Charlie Beach Resort the ultimate scuba diving experience whilst visiting the Phi Phi Islands. Due to our exceptional high diving standards and our dedicated group of experienced multilingual dive staff, our reputation now attracts customers from all over Phi Phi Island and the surrounding area looking for the best in scuba diving standards and customer service.
We opened our second Dive Centre on the nearby Island of Koh Mook in 2003 offering guests visiting the Islands of Trang province the same level of safety and enjoyment already on offer to people visiting Phi Phi Island.
Sadly in December 2004, Phi Phi Island was struck...
Read More