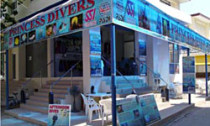 Princess Divers was established on Phi Phi Island in 2001, Princess Divers was set up to offer the guests of Phi Phi Princess Resort and its sister resort Phi Phi Charlie Beach Resort the ultimate scuba diving experience whilst visiting the Phi Phi Islands. Due to our exceptional high diving standards and our dedicated group of experienced multilingual dive staff, our reputation now attracts customers from all over Phi Phi Island and the surrounding area looking for the best in scuba diving standards and customer service.
We opened our second Dive Centre on the nearby Island of Koh Mook in 2003 offering guests visiting the Islands of Trang province the same level of safety and enjoyment already on offer to people visiting Phi Phi Island.
Sadly in December 2004, Phi Phi Island was struck by waves up to 8m generated by the Boxing Day Earthquake and resulting Tsunami, Our Phi Phi Island Dive Centre was completely destroyed along with our sister resorts of Phi Phi Princess and Phi Phi Charlie Beach. Together we suffered the loss of many guests, friends and colleagues, May they all Rest in Peace.
In 2006 we were delighted to be able to re-open our Phi Phi Dive Center in a temporary location, and then in 2009 we moved to our new and current purpose built premises, located on the main street opposite Freshmart supermarket right in the center of Phi Phi's main walking street. Our Koh Mook Dive Center fortunately was not affected by the 2004 Tsunami and we were able to remain open throughout Thailand and Asia's recovery period.