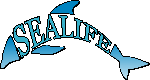 Sealife Scuba Diving Centre is located down at the pool area of the VidaMar Hotel. It welcomes anybody who is interested in discovering the wonder and beauty of Madeira underwater.
Direct access to 3 infinity pools and to the ocean takes away all the hassle of transporting equipment. We also have specially trained life guards that have experience in SCUBA Diving that improves safety of all divers that use our centre.
For those who are new to scuba diving, there are professionals there to guide you and teach you the basics by doing a try dive which consists of a short session in the pool before exploring the house reef, which is the underwater area in front of the hotel.
Our house reef also provides an exciting dive for the certified diver without the need to travel by boat.  It is remarkable how many species you will see right on the hotel's doorstep, not to mention the schools of fish that will surround you!
There are also courses available for those who want to get a certification to dive and other courses to extend already certified divers that want to take it to the next level.
Whatever your needs, Sealife Scuba Diving Centre is determined to make your holiday that extra bit special and memorable. And for those of you living and working in Madeira, we're looking forward to being your home base for recreational scuba diving on the island!