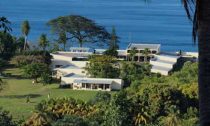 The Richmond Vale Hiking and Nature Center is located near many nature walks, waterfalls and the beach. The Center is situated on the North Leeward Coast of mainland St.Vincent in an area that, during the English colonial times, was an estate. It was used for various export crops such as sugar, copra (coconut oil), banana and arrowroot. The Center consists of a total of 4000 sq.m. (43,000 sq. feet) of buildings and is situated on a hill above the Wallibou River, overlooking the Caribbean Sea.
We have 8 rooms available for guests. The rooms are simple and clean with no extras.
The recently upgraded rooms have private bathrooms.(From December 2015)
We have a small kitchen, that if you want to cook for your self, is ready for you for free.
At the complex we have several verandas, fitness center and a dinning hall, which you can use free of charge.
At our place you will find Richmond Vale Diving Academy, which teach in Scuba Diving in the PADI instructor system. Our Dive Center is located next to the beautiful Richmond Beach. We have several dive locations and a fantastic underwater wall just at our beach. The waters of the northern part of the island of St. Vincent are unspoilt, virgin and scenery. Our price level suit the rest of our Center making the underwater world affordable for backpackers and low budget travellers. We have the lowest price in the Caribbean!