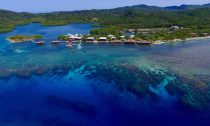 Situated on Roatan's south shore, Coco View Resort is perched on the edge of the world's second largest coral reef. We have spectacular and convenient diving. Take a short ride on one of our custom dive boats to many of Roatan's best dive sites like "Mary' Place" and "Too Tall, Too Small". Or explore the pristine coral walls and 140' "Wreck of the Prince Albert" in our famous "Front Yard" – only a few fin kicks from your room!
At Coco View Resort, you can dive and snorkel to your heart's content, 24/7! Shore diving is available whenever you desire! Grab a tank and go! When you are not in the water, enjoy delicious meals and tasty tropical drinks in the Clubhouse. Be entertained by talented local musicians and dancers. Learn about the island's history and become a better diver with special talks given by our resort's resident experts. Free Wi Fi is available throughout the resort.
You'll be cool & comfortable in one of our spacious air-conditioned Oceanfront Rooms, private homes or exotic Over-the-Water Bungalows and Cabanas. Relax in the hammock on your private deck at the edge of Roatan's incredible underwater realm. Soak in the tropical sun and cooling sea breeze as you rest and unwind.
Explore the beautiful landscaped gardens and paths that crisscross the resort. Kayak the mangroves around CCV. Pamper yourself with a private in-room massage, or enjoy an off-site excursion arranged by the resort. Golfing, shark diving, zip-line canopy tours, dolphin encounters… there's no end to your adventures!
CCV Vacation Rates include accommodations, meals, diving and more!
While you enjoy this tropical dive paradise our dive and operations staff will be busy assisting in every way possible. We want to make this Dive trip your best vacation ever! "Nature made it beautiful… we make it easy!"