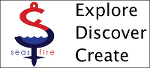 SEASFiRE is an active learning framework that mixes together scuba diving, media publication and marine science. We take science and digital skills teaching from the traditional education environment to a classroom like no other – the coral reefs of South East Asia.
Our programmes blend experiential learning, group activities, and individual projects to offer a dynamic educational experience, enabling participants to become :
Underwater Adventurers
Conservation Activists
Role models for their peer group and the wider community
Media publishers
Each programme is bespoke for the groups with whom we work. We run classroom sessions in which we complete dive theory, marine science and conservation lessons. These can be run over several weeks or in a more intensive training period. We have developed a number of modules that can be mixed and matched to achieve different learning goals. New modules are published regularly and can be developed upon request.
Our programmes culminate in a field trip to Malaysia, where the students will complete their dive training to PADI standards, carry out marine research and other conservation activities. Before the expedition, we plan the research we will carry out on the trip and identify the outcomes we want to have. Sample outcomes include:
Our expeditions are all-inclusive packages, sold directly to and paid for by the students, and include:
Flights to and from Malaysia
Transport, meals and accommodation within Malaysia
Dive certifications, equipment and all dive-related activities included in the programme
Marine Park fees
All media equipment required to document the experience