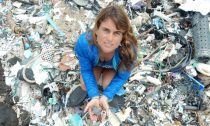 It's your classic movie eureka moment.
Young researcher Sarah-Jeanne Royer set out to measure methane gas coming from biological activity in sea water. Instead, in a "happy accident" she found that the plastic bottles holding the samples were a bigger source of this powerful warming molecule than the bugs in the water.
Now she's published further details in a study into the potential warming impact of gases seeping from plastic waste. "It was a totally unexpected discovery," Dr Royer told BBC News.
"Some members of the lab were experimenting with high density polyethylene bottles looking at methane biological production, but the concentrations were much higher than expected."
"So we realised that the emissions were not just coming from the biology but from the bottle that we were using for...
Read More