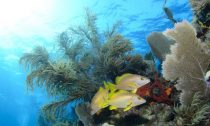 Fighting infections is hard. It's even harder for corals also grappling with pollution.
Katherine Dougan, a Ph.D. student in the FIU Institute of Environment, found high levels of nutrients including nitrogen and phosphorous—caused by fertilizer, sewage and other human sources—are actually making it harder for corals to defend themselves against infections. And this is something they have to do a lot to stay healthy and survive.
A normal day on the reef usually results in corals getting roughed up. Fish slam into them while hunting. Sometimes, corals will become prey and get bitten. This is bad, because fish have pretty dirty mouths. Bacteria that's left behind can get into the wound, causing an infection. Corals are usually capable of recovering, though...
Read More