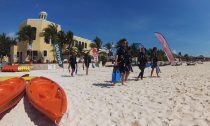 Riviera Maya & Cozumel – a must on your Adventure Bucket List! With over 3,000 cenotes and the largest natural barrier reef in the northern hemisphere, we challenge you to take the plunge into 3,000 years of Mayan civilization, Mesoamerican Pre-Columbian culture and hidden underwater worlds!
Join Pro Dive Mexico to explore beautiful reefs in their stunning marine environment, colorful coral formations and an amazing variety of marine life. Descend the deep walls of the Cozumel Marine Park, enjoy wreck, night, turtleand technical diving. Experience the clear and mystic waters of an ancient Mayan cenote, and encounter big fish like Bull Sharks, Sailfish & Whale Shark!
NEW! Encounter great white sharks at Guadalupe, dive with giant mantas, schools of sharks, dolphins and humpb...
Read More