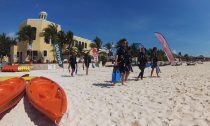 Riviera Maya & Cozumel – a must on your Adventure Bucket List! With over 3,000 cenotes and the largest natural barrier reef in the northern hemisphere, we challenge you to take the plunge into 3,000 years of Mayan civilization, Mesoamerican Pre-Columbian culture and hidden underwater worlds!
Join Pro Dive Mexico to explore beautiful reefs in their stunning marine environment, colorful coral formations and an amazing variety of marine life. Descend the deep walls of the Cozumel Marine Park, enjoy wreck, night, turtleand technical diving. Experience the clear and mystic waters of an ancient Mayan cenote, and encounter big fish like Bull Sharks, Sailfish & Whale Shark!
NEW! Encounter great white sharks at Guadalupe, dive with giant mantas, schools of sharks, dolphins and humpbacks at Socorro, with Nautilus Explorer & Belle Amie!
In 2003, four young German diving enthusiasts turned their dream of founding an extraordinary dive center in the Caribbean into reality. They dreamt of developing a dive center that provides their customers with all the comfort they personally expect from a good base. The combination of all those versatile, exotic dive sites along the beautiful white sandy beaches and world-famous Mayan cenotes, seemed the ideal location for implementing this idea.
The former "Hotel Oasis" in Puerto Aventuras (meanwhile rebranded in Hotel "Dreams"), located at the cenotes corridor of the southern Riviera Maya nearby the town of Playa del Carmen, seemed a suitable starting point. Their working philosophy has been based on the good German virtues like quality, punctuality and safety while diving, whereas, youthful drive, team spirit and above all fun, have been essential. Implementing both their love for diving and worldwide professional experience, they have emerged from a small dive center to one if not the leading dive center operation in the Mexican Caribbean, and have acquired an outstanding international reputation as Mexico's "German" Dive Center.
Pro Dive Mexico is pioneer of the famous local Whale Shark and Sailfish Safaris, and has been recognized with many international awards over the years. In addition to numerous "Awards of Excellence", they have achieved the esteemed "National Geographic Dive Center Award" for 9 consecutive years, and are the first dive center in Mexico, that has been honored with the "PADI Green Star Award". Pro Dive Mexico's "5 Star Career Development Center" in the heart of Playa del Carmen, nowadays, is considered the leading training center for diving instructors in Latin America and the Caribbean. Pro Dive Mexico also offers TEC Training and cave diving. Besides dive packages and training courses, their innovative corporate travel agency books and organizes entire dive vacations, including hotel, cultural excursions and transfers.
Today, Pro Dive Mexico operates 9 Dive Centers in the Mexican Caribbean and has become a competent partner for renowned dive touroperators worldwide. The high quality standards continue to be translated by their multinational team of instructors under German management. All their loyal and repeating customers are the best evidence that their concept has proven.
Pro Dive Mexico – Synonym for diving innovation and quality. For this reason the official company motto continues to be "Excellence through Quality".