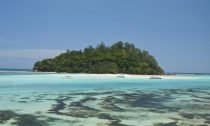 A British family is leaving their comfortable life in London in order to pursue something more. The Seath family, including Karolina, Barry and their two children, are about to move to an island you probably never heard of in a bid to help replenish and revitalize the area's coral reef, which have been ravaged by the rising sea temperatures off the coast of Africa's smallest island.
The island in the Seychelles, measuring just 400 metres long by 300 metres wide, will play host to the family's land-based coral farm, which will only be the second of its kind in the entire world — the other being on Australia's Great Barrier Reef.
"We are just a normal husband, wife, and two kids, living the sort of life that most others do… but we felt the need to make a positive change for oursel...
Read More