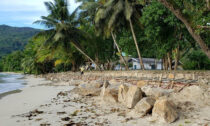 Seychelles, in partnership with the World Bank, is for the first time exploring the potential of implementing an innovative solution to build the island nation's coastal resilience and reduce the impact of coastal erosion. This solution, called the 'blue barriers' concept, involves the construction of an underwater structure through the use of non-toxic materials, onto which corals are transplanted, creating a man-made reef.
The principal secretary of Environment, Alain De Comarmond, told SNA that the blue barrier concept is another approach used for climate change adaptation.
"There are different ways to deal with coastal erosion. You can stop it when it reaches the land, where you build walls or do rock armouring...
Read More