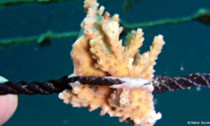 Coral reefs provide a home to fish and protect coasts from eroding. But, they are threatened, and have suffered from ocean warming. In the Seychelles, a project is underway to transplant healthy coral onto dying reefs.
It's early afternoon as the divers resurface. One by one, members of the team climb on board the boat that has been anchoring off the coast of the small Seychelles island of Cousin in the Indian Ocean. They start shivering in the heavy winds shaking the boat, and look exhausted. The've just finished their second dive of the day; each was one-and-a-half hours long.
They've been busy underwater, cleaning the ropes and nets of what they refer to as their "coral nursery" – a set of ropes and nets hanging from pipes, which are in turn fixed on the ground. Along the ropes and nets, 10 different species of coral grow – like table or cauliflower coral.
David Derand was the first to hoist himself aboard. For a few months now, David and his team have been preventing the coral from getting smothered, or outcompeted for food. "Oysters grow on the colony, competing with the corals," Derand explained, "so we need to remove them regularly." Using toothbrushes and wire brushes, the scientists scrub every centimeter of the ropes during their dives.
Bleach-resistant corals?
The corals that grow in the nursery were collected from a part of a nearby reef that had recovered well from what scientists call a "bleaching event" in 1998. At that time, El Niño brought unusually warm waters particularly to the Indian Ocean – home to about 15 percent of the world's mapped coral reefs. The warm waters disrupted normal photosynthetic processes, and turned the corals' cellular tissues transparent. Bleaching can kill off large areas of coral reefs.
According to a 2011 report issued by the World Resources Institute, approximately three-quarters of the world's coral reefs are currently threatened, both by local pressures such as overfishing and pollution, and global threats like climate change and bleaching. The institute estimated that in 1998, 50 to 90 percent of all coral in the central and western Indian Ocean died from the bleaching.
Derand's hope is that since the corals he and his team grow survived the 1998 bleaching, they will be able to resist future such events. There's no guarantee that this will work, he said, "but at least we have a good mix, so that we can be better prepared in the case of another bleaching event."
Next phase: transplantation
After growing in the nursery for up to 12 months, the corals will be transplanted to a coral reef that has still not recovered from the 1998 bleaching. This will be the second transplantation David and his team of seven scientists have done – the first was in December 2012.
"The site we were on was just coral rubble," said Kat, a 26-year-old volunteer from the United Kingdom, of the first site. There were barely any fish there before the transplantation – but afterward, quite a number reappeared, she said. "One time there was a black-tip reef shark as well, so we thought 'wow, it's obviously working.'"
Coordinated by local group Nature Seychelles and funded by USAID and the Global Environment Facility, the project – dubbed Reef Rescuers – is working with a budget of around $900,000 (374,000 euros) over three years. It's modeled on what is known as the "gardening concept."
Involving a nursery or gardening phase and later transplantation, this was pioneered by the Oceanographic Center in Haifa, Israel. A member of the Israel team actually came to the Seychelles to teach them – much as the Seychelles team plans to pass on their knowledge and experience to scientists in East African countries such as Kenya and Tanzania.
The World Resources Institute reported that reefs along Kenya's densely populated shoreline are also under pressure from local and global threats.
'Everything is linked'
It will take some time before Reef Rescuers will know whether their project worked. "We're trying to help nature," Derand told DW, "but then nature will have to help itself." He's interested in approaching local hotels and tourism operators for further funding. Derand said that after all, tourism – and diving in particular – requires healthy reefs.
Aside from tourism, people in island nations like the Seychelles depend on reef-associated fish species for their livelihoods and as a source of protein. Reefs also protect coasts from eroding, including preventing loss of nesting grounds for species like the threatened hawksbill sea turtle.
Pointing to the example of the hawksbill, Derand said: "Everything is linked. It's not just the coral itself; it's also the role that it plays in the overall marine ecosystem, from the fish, to the invertebrates, the turtle, everything."