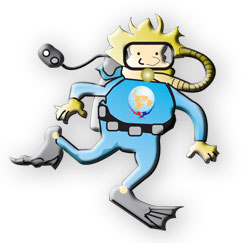 Dresden was a 5531-ton German light cruiser, built 1917. 510ft x 47ft. iwth 31000hp coal/oil-fired turbines. Scuttled 1919 by crew.
Note from map the coordinates (from Diver Mag) not precise enough. Appear to be diving on land!
She is argely intact, lying on her port side with a fair amount of marine growth covering the bow. Foremast lying on the seabed. On starboard side of intact bridge is a 5.9in gun turret, gun facing forward. Stern intact with gun turrets in place.
Down shot line to onto superstructure at for'rd, then down to sea bed, finning aft. Steve reeled off and went inside,i stayed out. Lost sight of him in silt kick, but came back on reel line.
Little marine lifr, free ascent to surface as shot too far for air balnce