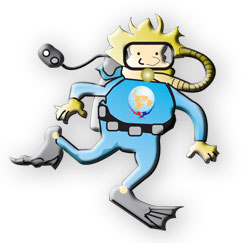 Entry site the Bells, a vertical chimney to the North of the Blue hole. Down to 28m and pop out onto a near vertical wall, then travel right shoulder, ascending slowly.
Eventually arrive at a colourful hard coral slope at around 10 metres, which leads up and over at 6 metres into the blue hole pool.
Free diving competition in progress in the Blue Hole itself, so able to watch this most graceful (and dangerous) of sports during safety stop.
Superb dive