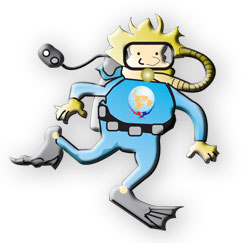 Third dive of the trip at Marsa Shouni, this time on the north side of the bay. Dive site name is bedouin for bay of the small market.
Positive entry off Sea Dream's dive platform, down to 12m, very low vis, approx 2m, finned with reef left shoulder, vis improving as we edged around the reef. Pinnacles rising out of the 'mist' made for quite an atmospheric dive. Beautiful yet eerie.
One crocodile fish, one stonefish, couple of morays and sweetlips, plus usual array of hard and soft corals and small reef fish, anthias, lion fish and groupers.
After 30 mins, turned around and finned back, slowly ascending along the coral wall, evemtually back into the poor vis. Almost needed a buddy line!
Unusual but atmospheric dive.