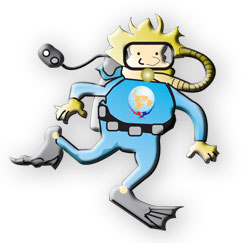 Dropped straight on to reef at 26m, hilly terrain, initially with some hard corals, but then large tracts of reef devastated by dynamite fishing. Heard one explosion in distance during dive.
One large crocodile fish lying in sand, swam a few feet then resettled in sand.
Came across a number of weighted fish traps with some sad specimens of small pudder fish an banner fish inside. One largish midnight cowrie near end of dive as current started to pick up.
A sad dive, given the extent of reef damage. Dynamite fishing now illegal here, but obviously still going on, and no sign on this site of any coral regeneration.