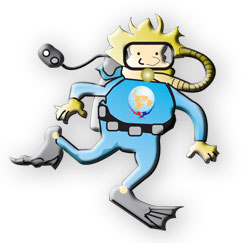 Tender from Karibu Sama, Pemba Afloat yacht. Slow descent to arch at 32m. Entrance is normally guarded by 'St Peter', a large grouper (?), but he was having the morning off. Swim through the arch, full of small fish, snappers, etc. Really niceswim through.
Left at arch exit, wall with lare gorgonia – pretty stunning sight! Spanis Dancer egg rose (bit no dancer), large silver trevallys, small scorpion fish, and schools of fusiliers. Finished dive at the top of reef in garden of hard corals and smoking (spawning) sponges.
A superbly pleasand dive.