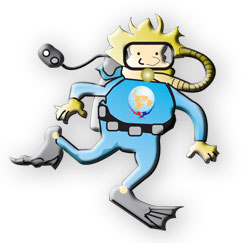 Boat trip from Fundo Lagoon on Pemba to Misali (aka Mesali) Island, Conservation Area.(not fully an MPA) Dropped down to wall, finned right shoulder at 30m. Currents apparently very unpredictable, but pleasantly light today, slack after high water. Finned against current initially to schools of trevally, unicorn fish and both pickhandle and blackfin barracuda.
Turned with current and back over reef, completely encircled by schools of barracuda. Two Napoleon's, largest at 2+ metres. More blue finned trevallys and a large number of large silver trevallys.
An absolutely stunning dive.