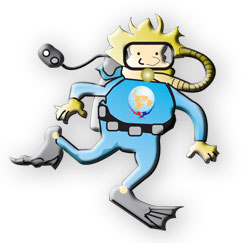 Short rib trip from liveaboard to dive sit, then negative entry to around 20metres.
Easy fin over coral garden. Blue spotted ray burrowing into sand, small school of yellowfin barracuda.
Two titan triggerfish at different spots, and a 'cloud' of yellowtail goatfish. Large numbers of wrasse of various species.
One bigeye emperor fish (?) and a pair of batfish.
Current picked up at the latter part of the dive, but a very pleasnt fin!