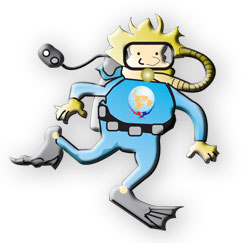 Second dive of the day, and of my birthday!
Negative entry and down reef wall to 18m. Gold spotted eel, superb soft and hard corals, and lots of sponges (purple, orange, green)
Small banded shrimp hiding in barrel sponge.
Current picked up as we approached Kamikaze cut, a narrow channel in the reef floor, and we were whipped through, keeping to the right as briefed, so that we could use the reef shelter on exit to hang a tight right turn, out of the current and into relatively calm water, or else next stop Europe!
Superb dive