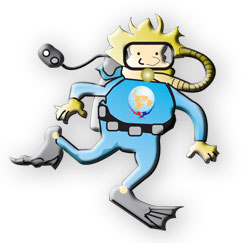 Positive entry from Sea Dream's dive platform on south west side of reef.. 16 divers trying to enter quickly led to a bit of a scramble – far from ideal.
Descend to around 15m then fin against light current to southern ridge then down to 30m to hang out looking for shark sightings – reports of oceanic white tip on the site. Light current made this unlikely, and after 20 mins gave up and drifted with current back to the reef and along the west wall, slowly ascending to safety stop depth. As always, Elphinstone wall bright with hard and soft corals, although failry light in terms of other marine life, but enough of the usual reef life to maintain interest.
Pleasant dive, but a little disapponting in terms of expectations.