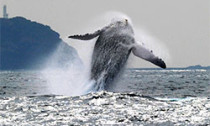 Popular with whale watchers and divers, the Kerama Islands and surrounding waters in Okinawa Prefecture were designated a national park on March 5, the first such selection since Kushiro Marsh in Hokkaido in 1987. The designation of Japan's 31st national park, straddling Zamami and Tokashiki villages, was announced in a government gazette.
The 30 islands and reefs of various sizes, lying 40 kilometers west of the prefectural capital, Naha, are well known as a breeding ground for whales. Many humpback whales migrate to the tropical waters near the Kerama Islands for mating between December and April every year.
The number of humpbacks confirmed in the waters rose from 26 in 1992 to 269 in 2012, thanks in part to efforts to protect the sea mammals by a whale watching association established by Zamami divers in 1991.
The newly designated national park, consisting of 3,520 hectares of land and 90,475 hectares of waters within 7 km off the islands, is also famed for its spectacular coral reefs.
About 250 species of reef-building coral, equivalent to 60 percent of all the species discovered in Japan, have been identified around the islands. The surrounding sea has a favorable environment for coral reefs to flourish because the water is highly transparent and the water temperature is stable throughout the year.
However, in 2001, an invasion of crown-of-thorns starfish, the predator of coral, seriously damaged the reefs around the Kerama Islands. A coral protection facility is planned in the national park.
"The designation as a national park will help preserve the humpback whale ecology and have a favorable impact on local tourism," said Kiyoshi Miyagi, a local whale watching guide. "If the designation had come earlier, we could have protected more coral reefs."