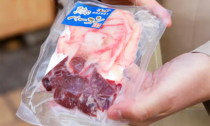 A Japanese whaling company has sparked an angry response from animal rights campaigners after it started selling whale meat from vending machines in an effort to boost consumption. Kyodo Senpaku, whose vessels led Japan's whaling fleet during its controversial expeditions to the Southern Ocean, opened its first kujira(whale meat) "stores" at two locations in Tokyo this month after a successful trial late last year.
The machines sell a variety of whale meat products, including canned items containing meat imported from Iceland, bacon, steaks and red meat that can be eaten raw as sashimi. Prices range from 1,000 (£6) to 3,000 yen.
Although whale meat was a staple source of protein in Japan during postwar food shortages, consumption declined after the 196os as pork, chicken and...
Read More