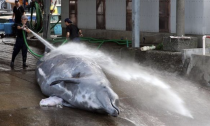 JAPAN will begin hunting whales for commercial purposes next month for the first time in more than 30 years after pulling out of the International Whaling Commission (IWC).
Five vessels will set off from six different whaling operators on July 1 in the first commercial whaling operation since 1986. Japan joined the global body for the conservation of whales in 1982, ceasing operations four years later. But the country had continued to hunt between 200 and 1,200 whales each year for scientific reasons, selling the meat on afterwards for consumer purposes.
Eating whale is seen to be part of Japanese culture even though consumption has fallen dramatically since the 1960s.
Pro-whaling nations expected the IWC to be a temporary measure until a sustainable catch quota was formed but ...
Read More