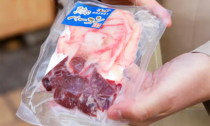 A Japanese whaling company has sparked an angry response from animal rights campaigners after it started selling whale meat from vending machines in an effort to boost consumption. Kyodo Senpaku, whose vessels led Japan's whaling fleet during its controversial expeditions to the Southern Ocean, opened its first kujira(whale meat) "stores" at two locations in Tokyo this month after a successful trial late last year.
The machines sell a variety of whale meat products, including canned items containing meat imported from Iceland, bacon, steaks and red meat that can be eaten raw as sashimi. Prices range from 1,000 (£6) to 3,000 yen.
Although whale meat was a staple source of protein in Japan during postwar food shortages, consumption declined after the 196os as pork, chicken and beef became more affordable.
According to the agriculture, forestry and fisheries ministry, Japanese consumers ate 233,000 tonnes of whale meat in 1962, eclipsing the figures for beef (157,000) and chicken (155,000). However, in 2021 they consumed just 1,000 tonnes of whale meat.
But Kyodo Senpaku said early sales from its seven vending machines in Tokyo proved that many people still had an appetite for the traditional cuisine.
"Sales have outstripped our expectations, even though the products aren't exactly cheap," said Konomu Kubo, a company spokesperson.
"Some of the items have sold out," he said, adding that the customers were a mix of older people who wanted to take a trip down memory lane and inquisitive younger people.
But campaigners accused the firm of making a "desperate attempt" to "prop up the cruel and declining whale industry in Japan".
The "chilling marketing move is aimed at increasing uptake of whale-related foods as another step in trying protect the industry and reverse the decline in whale meat consumption in Japan", Whale and Dolphin Conservation said in a statement, adding that in 2020 the Japanese government provided 5bn yen in subsidies to prop up the whaling industry.
"Only a small but influential group of politicians and whaling industry stakeholders drive the country's whaling interests," said the group's whaling campaigner Astrid Fuchs. "This latest cynical sales ploy comes at a time when the fisheries agency in Japan is aiming to expand the nation's whale-catch quotas in around two years' time, and possibly increase the list of species that can be killed."
Miki Yamanaka, a Tokyo woman, said meat she had bought from the machines had proved a hit with members of her family.
"My father ate tatsuta-age [fried whale meat] with a nostalgic look on his face, and my eldest son in high school is a fan of whale steak cooked with soy sauce," Yamanaka, 43, told the Yomiuri Shimbun newspaper at Kyodo Senpaku's store in the capital's south-eastern suburbs. "I'm back again today to buy more."
The firm will open a third store this week in the port city of Yokohama, and plans to have machines operating in 100 locations around Japan over the next five years.
In 2014, the international court of justice ordered Japan to halt its annual slaughter of about 900 whales in the Southern Ocean after concluding the hunts were not, as Japan had claimed, conducted for scientific research.
Five years later, Japan pulled out of the IWC and announced it would end the hunts, but resume commercial whaling in its coastal waters.
The IWC imposed a moratorium on commercial whaling in 1986, but a clause in the ban allowed Japan to catch whales in the Southern Ocean every winter.
This year the government has set a quota of 379 whales across three species, although local whalers have said their industry is struggling to survive. They blame ageing fishing communities and vessels, changes in cetacean behaviour possibly linked to climate breakdown, and weak consumption.
According to a 2012 survey by the International Fund for Animal Welfare, 89% of Japanese people said they had not bought whale meat in the previous 12 months.
The vending machines are part of a campaign by the industry, supported by conservative politicians who accuse western anti-whaling groups of culinary imperialism, to protect a whale-eating tradition that stretches back to the Edo period (1603-1868). Every year, Kyodo Senpaku provides about 100 tonnes of whale meat to schools for use in children's lunches.
"We're aware of the criticism from anti-whaling groups, including in Japan, but they're in the minority," Kubo said. "What's important to us is how popular the vending machines have been so far."