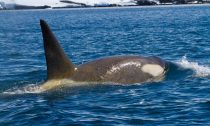 Sometimes it feels like we know all there is to know about the natural world. But when you talk to researchers in biology, ecology, geology or other science subjects, they'll tell you what we know only scratches the surface. There's so much more to discover. In the animal world, whale migration is a great example.
Thus far, marine biologists have never been sure why whales migrate. They hypothesized that it had something to do with where they prefer to give birth (many whales calve in warmer waters), or maybe was connected with food supplies. But whales are large enough animals that the cold waters where they tend to live should be fine for giving birth, and during migration, whales eat a lot less because they're busy moving and not finding hunting grounds.
But there's a new theory: Maybe ...
Read More