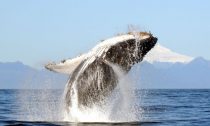 The International Whaling Commission (IWC) was founded to regulate whaling. Today, it increasingly focuses on the value of live whales for planetary health. A new workshop report confirms the great ecological value of whales to help mitigate climate change, transport nutrients, enhance marine productivity, and promote biodiversity in marine ecosystems.
The world's leading experts gathered for a three-day workshop in April that was co-hosted by the IWC and the Convention on the Conservation of Migratory Species of Wild Animals (CMS). The meeting came in response to a 2016 IWC resolution, introduced by the government of Chile, to compile scientific information about the ecological roles of cetaceans (whales and dolphins).
The workshop discussions focused on a number of primary ecos...
Read More