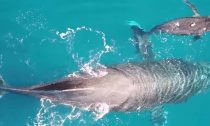 Whales, as we all know, are different from most other sea creatures. They are mammals, and give birth to live babies… and then they nurture and raise those babies, nursing them on rich, fatty milk so they can grow big and strong. But we can't just put whales in an aquarium and watch them raise their families. They are large beasts with complex societies, and their migration can take them around the world.
While the ocean isn't exactly hospitable to humans, though, we can send our technology. Through the use of whale-mounted cameras, scientists from the University of Hawaiʻi, Stanford University, and UC Santa Cruz were able to capture breathtaking video of humpback whales nursing their calves as they wintered in their breeding grounds in Maui.
Every year, around 10,000 humpback whales r...
Read More